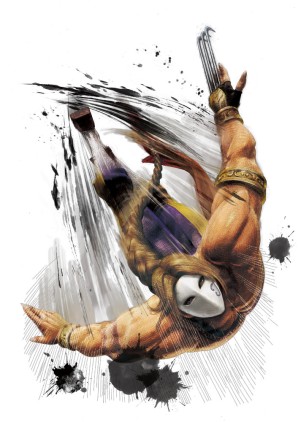 Vega, known as Balrog , is one of the bosses of the Street Fighter fighting game series. He first appeared as a boss character in Street Fighter II. He is a memorable character, not only for his obsession with beauty, but also for the claws he wield and his unique fighting style.
Vega uses his own fighting style of which is a blend of Spanish Ninjutsu and Bullfighting.
His Mortal Kombat rival is Baraka. Vega was born to a privileged noble family. For reasons undisclosed, their status dwindled, causing Vega's mother to remarry for financial security. As he matured, Vega studied bullfighting, a cultural tradition. Afterward, he went to Japan and learned ninjutsu, a style he believed meshed well with his natural grace and agility. Combining bullfighting with ninjutsu, Vega went into an underground cage fighting circuit, and quickly became one of the best. His ugly stepfather murdered his beautiful mother because he felt she did not respect him, and Vega killed him in return. The incident warped his mind, and he developed a dual personality: honorable nobleman by day, sadistic murderer by night. It was this incident that triggered Vega's obession with beauty as a wonderful trait, as well as his belief that ugliness is something evil that should be purged.